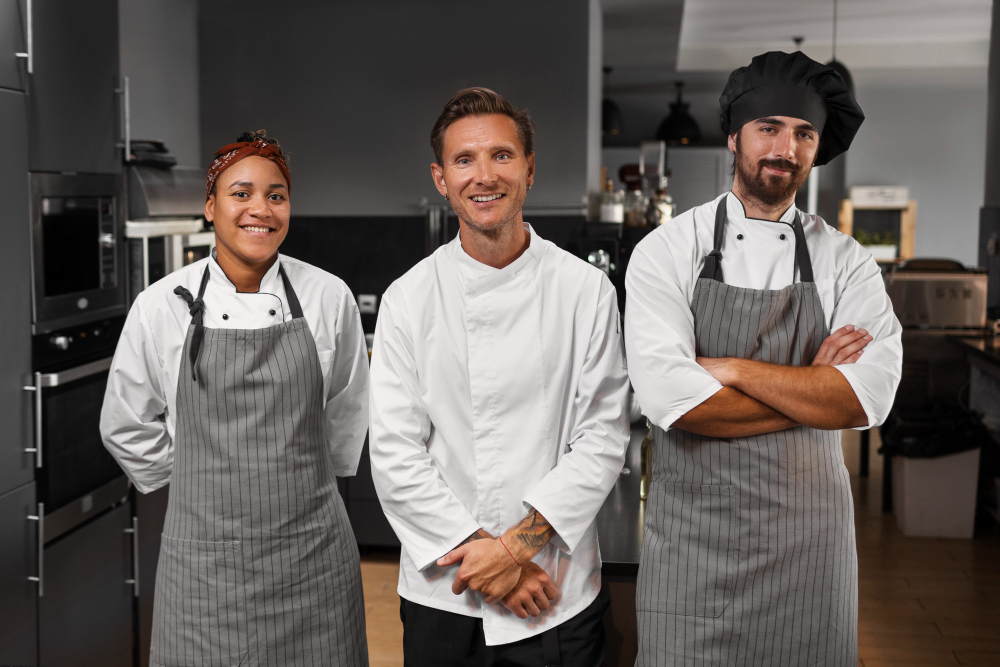 Ensure Your Hires Stay For The Long-Term
Working in the hospitality industry, particularly in restaurants, could be demanding. From standing and walking for 8 to 12 hours a day to dealing with different types of guests, despite being an incredibly fulfilling profession being a restaurant worker can be tiring at times. And once restaurant employees get exhausted from work, they will become unmotivated and would not care enough to give your patrons their best service.
In order for your restaurant to have regular and satisfied patrons, you've got to ensure you are taking care of your employees first. Aim to keep your restaurant employees happy and motivated so they will stay with the company. Here are some practices to bring out the best in your team:
Keep communication open
Many employees leave when they are not well informed of what is going on, which is why having open communication is always the key to a healthy work relationship with your employees. Encourage your team to speak up and actually listen to them. A great way to do this is by having huddles. A short team huddle before service could help your restaurant team to be more communicative. It is one of the methods to keep your team updated, give feedback, and contribute suggestions. Try to brainstorm with them as well, they probably have helpful ideas since they are the ones working on the frontline.
However, it does not end to simply having conversations. You also have to be responsive; they need words followed by actions. They will get frustrated if they keep on asking for the same thing over and over. This will also make them feel that their voice does not matter. Although, I do understand that you cannot agree on everything they suggest. Still, it is always important to keep an open mind. Discuss it, debate it, and compromise.
Create a fun comfortable workplace
No one likes a cold, stagnant, and mechanical work environment. Make work exciting! Close the restaurant for a short while during the off-season and schedule team buildings and outings. It will also be thrilling to create small friendly competitions during service. Like for example, the server who sells the most number of today's special, or the cook who plates a dish the fastest and cleanest wins a prize! This will definitely boost their confidence and will help build a positive work culture where employees can build a stronger foundation and long-lasting camaraderie.
Make sure to introduce yourself to them and ask their names. Call them by their first name, get to know them a little personally, but do not forget to respect their boundaries. Though it will be a nice gesture to remember their birthdays and celebrate them with them. Prepare a little gift or a cake for someone's graduation, work anniversary, or promotion. Celebrate some holidays with them! Organize a Halloween, Christmas, and New Year's party. It would be nice to build a small bond with them to relieve some awkwardness at work.
Make them feel you are one of them. Occasionally help them perform their tasks. Small tasks like wiping tables, cutting lemons, polishing glasses, or even washing dishes when you have some time to spare. It would also be great if you are the one who is actually teaching them how things are done. Remember to be approachable and be their mentor. Also, do not forget to give out compliments and appreciate their work.
Provide proper working conditions
Always consider the comfort of your employees. Give them a space to rest during break time. Enhance their energy by gathering everyone for a nutritious hearty meal before a shift. No one can truly function and work properly if they're hungry or have been given a bland unappetizing staff meal. Also, keeping them well-fed will reduce the number of thefts in inventory.
Make workstations well ventilated, especially the kitchen. Equip them with the right tools to work with. Invest in high-quality equipment and technology to help your employees work efficiently, this will also make them eager to produce excellent products. Educate your employees on how to use and take care of the equipment properly. And regularly check on them if there is something to replace or update. Do not forget to install a first aid kit to immediately take care of emergencies.
Rotate everyone's schedule so everybody gets a chance to work on the most desirable shifts. Give them a decent number of days off from work. Let them have days where they could truly be themselves. Enjoying a day with their family and friends. Focus on their hobbies. It is a way for them to have a clear happy mind that is ready for new days of busy dinner shifts.
Continuous learning
We should never stop learning. It gives us a sense of purpose and makes us better in anything that we do. Furthermore, the best employees stay loyal with you if they see a prosperous future in your company.
From the moment a new employee comes into your restaurant, make them feel welcome by teaching them your company values and standards. Organize orientations and training for newcomers to ensure that they are ready to provide restaurant guests quality service in accordance with your restaurant standards. Give them continuous training programs to improve their skills. Plan out informative seminars and field tours, these will make them excited to learn something out of their usual workplace.
Know your employees individually. You could discover the potential in them. Maybe you'll find someone in your front-of-house team who is a home baker and would be interested to try it out professionally sometime. It would also be exciting to offer cross-trainings among the different departments in your restaurant. This is something for employees who would like to discover new things and venture out of their roles. It is also a great opportunity for them to learn new expertise and level-up.
Your top employees would not want to stay stagnant. They will crave education and growth. And they will surely stay longer in a company where there is constant learning. They will aspire to climb up the career ladder and aim to make the company develop as well. So, invest in your staff and grow with them.
Pre-taste food offerings
After giving them some training, it would be a great idea for your kitchen team to showcase what they have learned and create some excellent dishes for the menu. You could do some every day specials or an enticing 9-course tasting menu! While your bartender could also experiment with new cocktails. And every time you decide to change something on the menu and serve a new dish or drink, have your whole restaurant team pre-taste everything. Let the cook or the bartender share its ingredients and explain how the dish or beverage was made. This will help your servers to remember and describe the new offerings easily. They could also efficiently make suggestions and even recommend their menu favorites to the guests.
This will also help your team to stimulate their palates and discover new flavors. It is another way to make your restaurant staff to feel involved. After the tasting, ask what they feel about the new offering. Test their knowledge by asking what kind of wine the new dish could be paired with. Also, keep in mind to always be open to comments and suggestions.
Proper pay and benefit
Compensation would highly impact an employee's performance and motivation. And a responsible employer would think of their employees' worth. Investing in your team is the best decision you could do as this will have a positive ripple effect on your business. Aside from overtime pay, holiday pay, paid sick leave, paid vacation days, and the traditional health plan benefits… consider giving them a higher competitive wage so they would not be tempted to look for a better-paying company. This will also serve as an attraction to the best chefs and maître d's out there. These high-class employees that you could entice might have high skilled friends who might become interested in joining your team as well.
While it is a great gesture to acknowledge their sacrifices and great work by appraising them verbally, they would surely appreciate it more if you could give them a token of appreciation like a gift card from a local shop, a free massage day, or a free overnight stay in a hotel partner. These would be a great gift for small recognitions such as the "Employee of the Month".
In conclusion, keeping your employees satisfied and happy is very crucial. How you treat them reflects on the service they give to your restaurant patrons. It is not only the good food, but the superb service guests come back to.
Apply these conditions and make the best employees stay in your company. Create a workplace that is like a community. Encourage your team to communicate. Make them feel heard and appreciated. Give them valuable training. Help them develop individually, professionally, and academically. Appropriately compensate them for the work they do. Securing their contentment in your company will benefit you, your team, and your patrons.