Full Time
HKD 17000 - 30000 / Month
Salary: HKD 17000 - 30000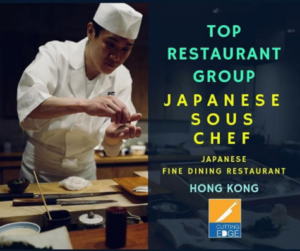 Japanese Sous Chef Summary:
Japanese Sous Chef for a fine dining Japanese Restaurant in Hong Kong.
Job Description:
Assist Senior Sous Chef in running the kitchen operation.
Help in searching for appropriate food suppliers.
Provide appropriate assistance on food costing and purchases of procedures for daily covers.
Responsible for the preparation of rosters and the supervision of the operation.
Ensure proper arrangement and garnishing of food.
Requirements:
– At least 4 to 7 years of chef experience, specialized in the Japanese Cuisine
– Experienced up-scaling, large volume, and busy venues
– Knowledge about Hygiene and HACCP regulations
– Interpersonal and problem-solving skills
– Highly reliable and responsible
– Good communication skills